Dj Enzo Falivene - Mood On Podcast feed:
Copia il link del feed ed incollalo nel tuo aggregatore



Dj Enzo Falivene - Mood On Podcast
ITA Amore,Passione,Pazienza,Gavetta,Studio,Esperienza,hanno creato quello che noi chiamiamo Enzo Falivene.Attraverso i suoi dj set,cerca di farsi conoscere al pubblico che lo ascolta creando un vero e proprio rapporto empatico,dove a connettere gli interlocutori è la MUSICA che si ascolta.Sempre pronto a sperimentare e stupire,a rinnovarsi attraverso le linee della tradizione,divorando musica con il solo scopo di emozionare ed emozionarsi.La sua grande abilità nel maneggiare cdj,mixer ed effettiere,l'essere sempre affamato di tecnologia e innovazione aiutano a rendere uniche e diverse le sue esibizioni,che spaziano in vari generi. "La musica unisce ..... Dai primi agli ultimi giorni di vita .... !!!!! ENG Love, Passion, Patience, Training, Study, Experience have created whom we call Enzo Falivene. Through his dj sets he tries to make himself known to the audience, creating an empathic connection, in which it's MUSIC that connects people. Always ready to experiment and to amaze, to reinvent himself respecting tradition and devouring music with the aim of touching himself and others. His ability to handle CDs, mixers, effects samplers, always hungry for technology and innovation, help to make his performances different and unique, which cover various musical genres. "Music connects....From the first till the last days of life... !!!! www.enzofalivene.it This is My Music ..... Follow Me Now ..... Dj Enzo Falivene
Dj Enzo Falivene-Mood On 027 Settembre 2015
09-09-2015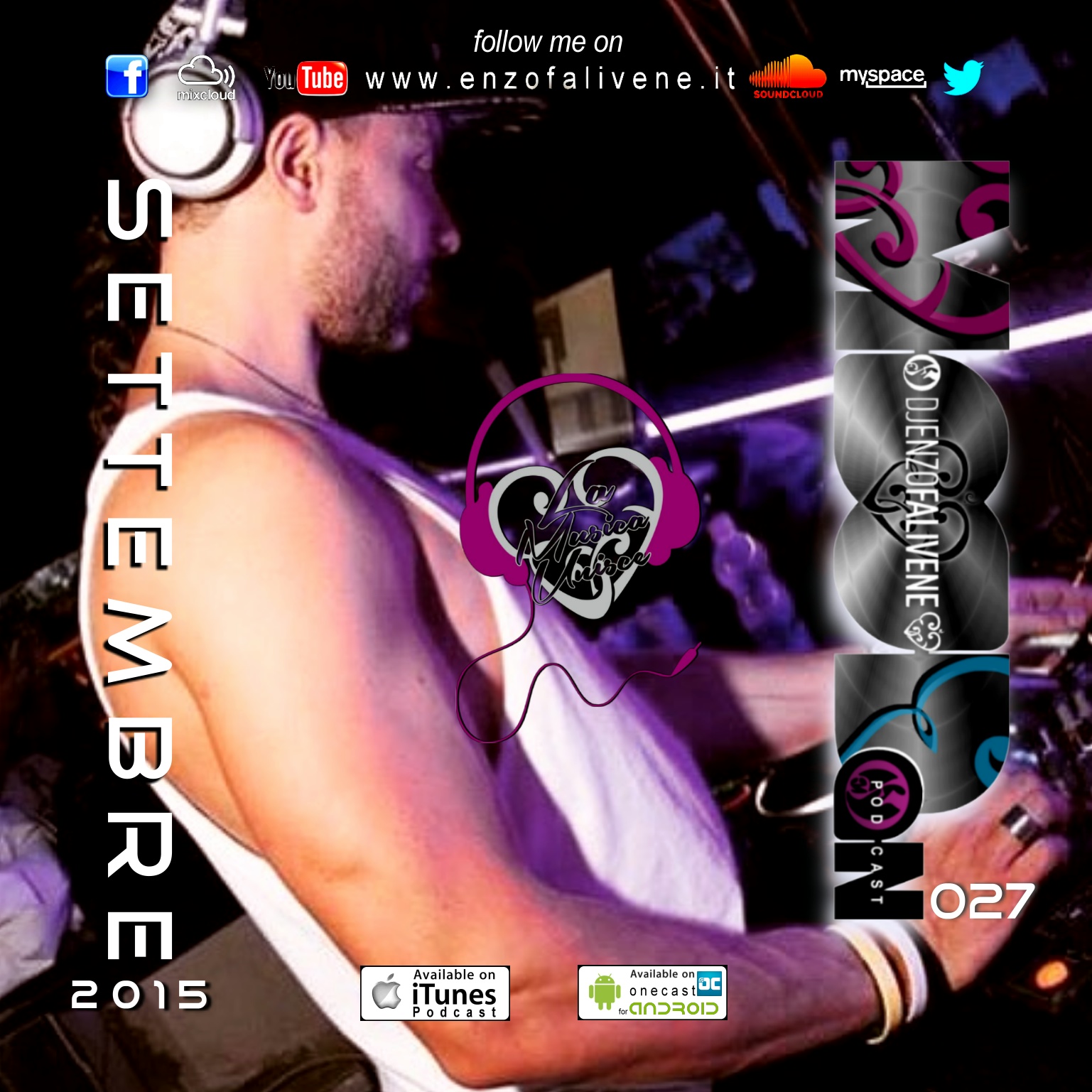 Dj Enzo Falivene – Mood On 027
Settembre 2015
Listen My Music and follow me on :
www.facebook.com/pages/Dj-Enzo-Fa…vene/47670401052
@enzofalivenedj
www.mixcloud.com/djenzofalivene/
twitter.com/EnzoFalivene
www.youtube.com/enzofalivene
www.enzofalivene.it/
*)Artista-Titolo_Etichetta
1) Duke Dumont - Ocean Drive _ Universal Rec
2) Kygo Ft. Parson James - Stole The Show (Dunisco Remix) _ Promo
3) Felix Jaehn - Ain't Nobody (feat. Jasmine Thompson) _ Polydor Rec
4) Frankey & Sandrino – Acamar _ Innervisions
5) Kollektiv Turmstrasse – Sorry I Am Late _ Diynamic Rec
6) Robin Schulz - Sugar (ft. Francesco Yates)_ Warner Music
7) Dj E-Clips - Shake _ Simma Black
8) Lost Frequencies - Are You With Me (Gestört aber GeiL Remix)_ Kontor Rec
9) Maroon 5 vs. Alesso - This Summer _ Interscope Rec
10) Peppe Nastri – Let's Rock _ Smilax Rec
11) Robert Blues - Miami Dreaming _ Royal Beat Rec
12) Faithless-Insomnia (Fedde le Grand Remix) _ Sony Rec
13) Gil Sanders & Alex Nocera_Don't Stop _ Net's Work Rec
14) Wiwek & Gregor Salto feat. MC Spyder – Trouble _ Doorn Rec Vs Queen – We Are The Champions _ Virgin Rec (Enzo Falivene Live Mash Up)
15)Astrit & Kamy feat. Ervin & Iljard - Espace (Kamy Aksell Rmx) _ Molto Rec
16) Nari & Milani vs. The Cobs - Right Or Wrong _ Big Dirty Rec
17) Dzeko & Torres - L'Amour Toujours (Tiesto Edit) _ Promo
18) NLW - Daft_Ragga _ Spinnin Rec
19) SHM – One (Enzo Falivene Re-Edit 2015) _ MoS Rec
For Info,Demo,Edit,MashUp : ufficiostampa@enzofalivene.it
Many Tnx !!!!
Categorie
Tipo di file: MP3 - Dimensione: 115.12MB - Durata: 1:03:28 m (253 kbps 48000 Hz)